Tips to Prepare Your Home for Thanksgiving
Posted by Kimberly Rexroat on Friday, November 19, 2021 at 4:15 PM
By Kimberly Rexroat / November 19, 2021
Comment
Thanksgiving Tips and Tricks
Thanksgiving is a wonderful time to bring individuals and family together that we don't get to see as often as we may like. It's a time to live in the moment, enjoy the people you are with, and give thanks for what we have. Memories are made and full bellies put papaw to sleep in his trademark recliner.
Yet, we know that stress often precedes all the euphoric feelings. Here are a few tips and tricks we've come up with to help ease your holiday stress, especially if you are hosting! We are here to help you!
Declutter Your Home
We've all asked ourselves, "How did I get so much stuff?". I still haven't found the answer to this question, but let's start with a simple guideline to follow. If you have not used it in over a year, it's time to go! Give some special attention to those areas that tend to become catch-alls like counters, dressers, desks, entryway tables, and dinner tables. That's right! That summer shopping ad from your favorite local store that's been sitting in a pile on the counter? It's time to let it go. Yesterday!
Let's face it. We have all accumulated items lying around, and we must make room for guests and the items they'll bring over. With family, friends, and sometimes last minute add-ons coming over, your space can begin to feel small really quick. Decluttering, especially your main living areas, will help relieve some of the stress of the holidays!
Don't have a space where you want to host this year? Take a look at these new listings and make the moves (literally) to host your family next year!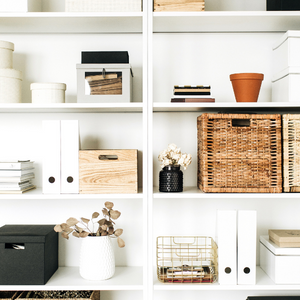 Deep Clean
It's time to put the gloves on and break out that extend-o duster to clean the ceiling fans! Now, your biggest concern may be not having enough time to clean your whole house. That's fine, we get it! Try starting with just one room at a time, starting from the back to front. That way the common areas are cleaned closest to the holiday. Too many rooms? That's STILL fine! Shoot for just the common areas like your kitchen, living area, dining area, and bathroom that your guests will be using.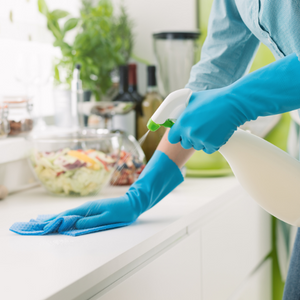 Stock Up!
Check-off all the items on your grocery list, then double check it. Then check it AGAIN. There is no greater stress-inducing moment than realizing Thanksgiving morning that you overlooked an ingredient. Clouds seem to appear out of nowhere and the thunder rolls. (Where does it even come from?) So, let's check those a couple times before we move on.
Another great tip is stocking the bathroom that your guests will be using. Throw in some extra hand towels, toilet paper, and the token "Febreeze" bottle. You and your guests will be thankful!

Don't forget that if your house isn't perfect during the holidays, that is ok! But, if it makes you desire something different for the next holiday, we can help with that too. Check this article out about why it may be best for you to make a move now during the holiday season!
We hope this short guide to preparing your home for the holiday's helps ease the stress of hosting! If you'd like more blog posts like this sign up and let us know below! Some of our upcoming topics will be how to redecorate a space, why you should sell/buy during the holidays, and local features for holiday events!