Quick Staging Tips to Sell Your Home
Posted by Kimberly Rexroat on Tuesday, January 11, 2022 at 8:00 AM
By Kimberly Rexroat / January 11, 2022
Comment
Staging Tips to Sell Your Home
Home staging is an important step in preparing to list your house on the market. You're probably asking yourself, "Is home staging worth it?". Yes! Proper staging can help visually bring in buyers and get you a great offer on your home. This is the time to really accentuate the main assets that your home possesses. When preparing, accentuate your home's strengths and minimize possible weaknesses.
It is important to note that decorating is not the same as home staging. Where decorating accentuates your personal style, home staging is more generalized to the buyer market. It helps buyers view themselves in your home. Here are a few tips to help you!
Declutter - Start by clearing off counter tops and shelves (kitchens, bathrooms, etc). Clearing these off makes the counter space look bigger, clean, and organized. Clutter in all aspects makes the home look like it has less space. Space is what helps sell! Other key areas to declutter are your pantry, closets, and tables. Anything you don't need on a daily basis should be put away in a designated place. Consider making a decluttering checklist by room to you.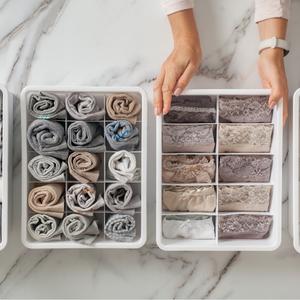 Depersonalize - Having a lot of family pictures and other personalized items makes it harder for buyers to view themselves in your home. Remember, the whole goal is for buyers to see themselves living in your house. Keeping exposed items general and simple helps that vision. We know it can feel a bit weird to put those items that make your house a home away, but remember the end goal!
Patch & Repair - Decluttering and depersonalizing sometimes leaves holes exposed in the walls. Spend a little extra time filling and painting those holes. It'll help buyers feel like there is less for them to do moving forward. For marks on the walls, you can usually take a Magic Eraser and gently remove them from the walls.
Clean like you've never cleaned before! - Imagine holiday cleaning and Spring cleaning multiplied tenfold. To make it less daunting, start from top to bottom. Vacuum cobwebs out from corners of rooms, dust furniture, windowsills and blinds. Wipe down windows and mirrors and other reflective and glass surfaces. Clean out the fridge of spilled messes and cabinet faces. Wipe down trim edges and if you have tile floors, scrub that grout! We know this can take a lot of time, consider hiring someone to deep clean your home right before pictures or if you have an open house scheduled.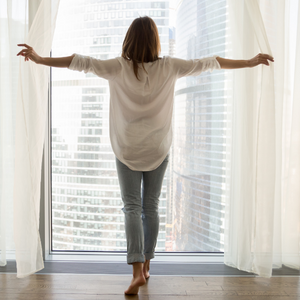 Brighten up the space - Open up curtains and blinds. Bright spaces look larger than dark rooms. Before a showing, turn on all the lights so potential buyers don't have to look for where the light switches are. If you're looking for an extra push of light, consider switching light fixtures or switching to bright white bulbs if you don't have any. For bathrooms, if you have dark shower curtains try a lighter color.
If you're considering selling but want information on the market. Reach out to us here!
Neutral tone - Keep colors throughout your house neutral. If you have a variety of bold colors throughout your home, it can be hard for buyers to look past. If you have a room with dark paint it can also make the area look smaller. Pops of color like pillows or blankets can make a space feel warm and cozy, but too much can visually clash.
Furniture - If you have a lot of smaller, non-essential furniture then consider removing it for the listing. It makes the room feel like it has less space and looks cluttered to buyers. Look at how your rooms are staged from an outside perspective. Is there plenty of room to move around? Does there feel like there's plenty of space? Does it flow from one room to the next?
Proper home staging in a more cost effective way to get your home ready to sell as opposed to making updates. If you would like to make some updates to increase the value of your home before you list it, you can check out this quick read of items we've compiled about it.