Local Spotlight - Our Table American Bistro
Posted by Kimberly Rexroat on Wednesday, November 24, 2021 at 1:41 PM
By Kimberly Rexroat / November 24, 2021
Comment
Our Table
"Enjoy the moment"
Indiana natives, Ginger and Joe Miller, have taken on an exciting new endeavor to add a new cornerstone to the Bargersville area. Conveniently placed on SR-135, Our Table will be a place for all to come and "enjoy the moment"!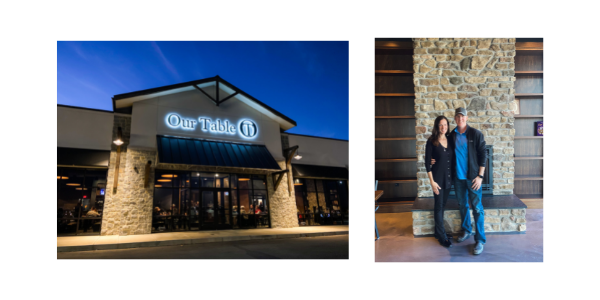 Joe's extensive career in the culinary field and Ginger's shared vision has fueled their inspiration to take on their own restaurant. Their journey is truly awe-inspiring! Shortly after their plans were set into motion, Covid-19 placed the world on a devastating pause. Forever optimistic in the face of adversity, they continued on developing their plans for when the world became a safer place. In what became a family affair, they watched what started with just pea gravel inside an empty structure turn into a thoughtfully crafted environment for its patrons.
"It was that moment you felt like something was born."
If 2020 and beyond has taught us anything, it's that we really need to enjoy the moment. Joe and Ginger briefly told us what that means to them. Life can often throw us unforeseeable curveballs or we easily get caught up in the hustle of life. Sometimes, we need a reminder to enjoy the very moment we are living in. Step into Our Table and leave everything else at the door. Enjoy the presence of the ones you are sharing the experience with and cheers to that!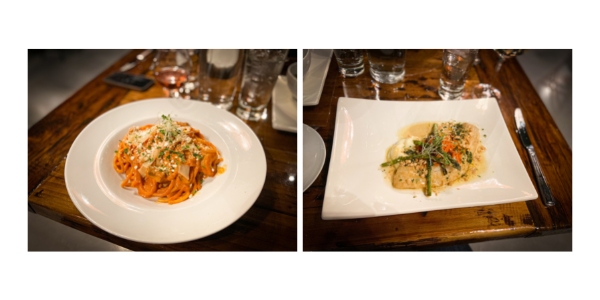 Joe and Ginger were gracious enough to allow us a tour of their restaurant while the finishing touches were completed. When asked what inspired the look and feel of Our Table, they explained how it is a little piece of their experiences and a little piece of Indiana. Being placed in Bargersville, you experience more of the beautiful natural elements that Indiana has to offer. Elegant stone, rich wood features, and low lighting envelop you into a laid back setting. Even the kitchen was meticulously developed to bring the most efficiency for staff.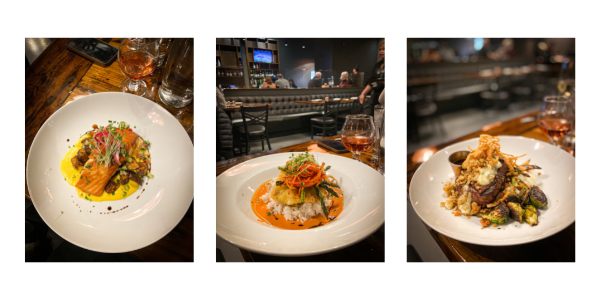 Joe's experience in the industry since he was young has had a large emphasis on a high quality of customer service as well. Our Table provides white tablecloth service with an exemplary menu made from fresh ingredients, without the stuffiness that has a tendency to come with those types of restaurants!
"...We want our guests to come in and feel like they're family, they're friends..."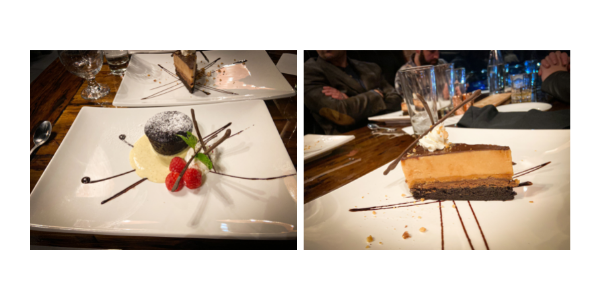 I explained to them that from just the little information I had, that I felt welcomed into the restaurant like I was invited to their very own table. They shared how their goal is that everyone who walks through the door is enveloped into that warming feeling of inclusivity. Whether it's family night, date night, a cup of coffee by the fireplace, or a business meeting, there is something for everyone here at Our Table.
On opening night, November 23, 2021, our team was able to attend and get the full experience that Our table was built around. We were met with an incredibly warm and inviting environment with the selection of a complementary prosecco or a non-alcoholic celebratory drink. The staff was socialable and the menu was impeccable. The level to which each dish was executed was truly a work of art! It was one of those moments where it looked to beautiful to eat. However, with a table full of foodies none of our dishes lasted long! Needless to say Our Table gained a few life long customers from the ISG family.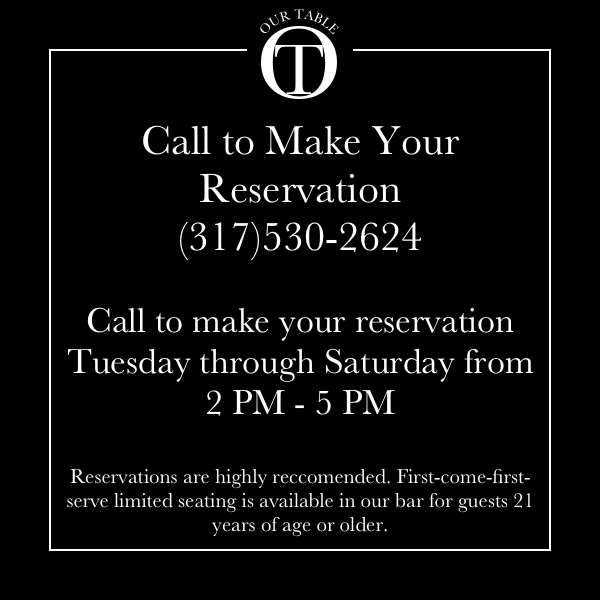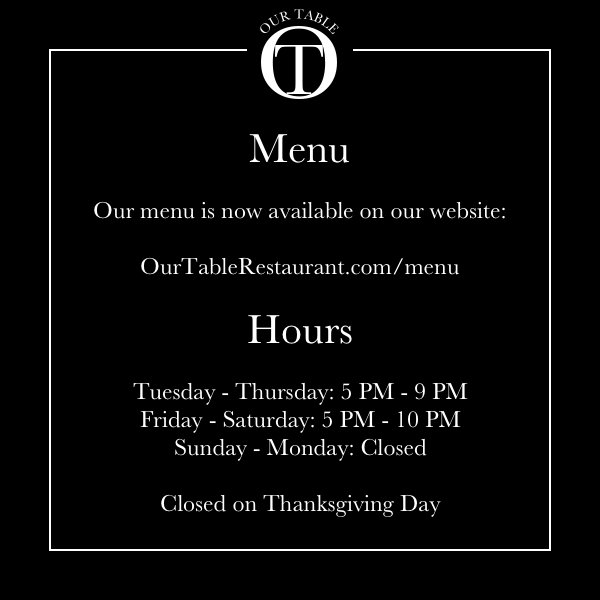 If you know of a local business that you want to be recognized in ISG Property Collection's business spotlight, send us an inquiry! We want to know about them and share them with the community!
To sign up for our newsletter submit your information below! We will have more local business spotlights, community blogs, real estate advice, and housing market information coming!