Indianapolis Clutter-Free Gift Guide
Posted by Kimberly Rexroat on Thursday, December 2, 2021 at 10:01 AM
By Kimberly Rexroat / December 2, 2021
Comment
Indianapolis Clutter-Free Gift Guide
As the world continues to open up and family get-togethers become the norm again for the holidays, this year's retail spending is estimated to be 10.5% more than the 2020 holiday season. We have all been susceptible to the supply chain shortage for many products. As a domino effect prices have increased for many things.
This guide will not only help you with new, creative, and clutter-free gift ideas, but also save you from becoming victim to supply chain delays and inflated prices.
If you are fed up with the clutter inside your home and need more space take a look at these houses in the Indianapolis area!
Experiences
Possibilities are endless for Indianapolis activities that involve making memories! These gifts are great because they are scalable. They can be for the entire family, just the kids, a couple, or an individual.
Arcades
Laser Tag
Urban Air Trampoline Park
Zip City Indy
Mini Golf
Water Park
Indianapolis Zoo
State Park
Bowling Night
The Escape Room Indianapolis
Top Golf
Event tickets (concerts, sports, plays, movies)
Manicure/Pedicure
Indoor Rock Climbing
Paintball
Massage
Hard Truth Distillery Tour
Winery Tour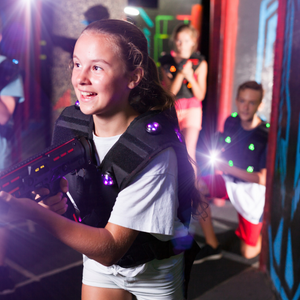 Time
Just dedicating your time is the perfect gift! These ideas are great to put into a homemade coupon book to give someone. Babysitting is a great option for the parents you know because it allows them to also go on a date night. Talk about two for one!
House Cleaning
Date Night
Babysitting
Car Wash
Pet Sitting
Shoveling Snow
Mowing Lawn
Memberships
Know a book lover? Kindle and Audible are great options that involve a large amount of free books with the membership. For those homebodies you know, a streaming service is the perfect gift!
Audible
Kindle
Streaming Services (Netflix, Disney+, HBO Max, etc.)
Pre-made Meal Services
Gym
Amazon Prime
YMCA
Indianapolis Children's Museum
FabFitFun
Atlas Coffee Club
Ipsy
Car Wash
Here's a list of houses near the Indianapolis Zoo and Children's Museum!
Consumable
Let's be honest here, you really can't go wrong with any of these consumable clutter-free options. You have no doubt that they will use them!
Coffee Gift Card
Crumbl Cookies Gift Card
Edible Arrangements
Meat/Cheese Basket
Snack Boxes
Charcuterie Board
Bath Bombs
Man Crates
Beer of the Month Club
Wine of the Month Club
Candy Club
Classes (not age specific)
This is the perfect opportunity to gift someone a class in that hobby they've been meaning to explore. Don't want to buy your kids a toy that will get discarded under their bed after it loses its luster? Consider a new hobby or sport for them!
Baking/Cooking
Dance
Gymnastics
Painting
Pottery
Photography
Yoga
Personal Training
Sports
Karate
Candle Making
Wood Working
Benefits of Clutter-Free Gifts
Step-up your gift giving this holiday with a clutter-free gift! Most of these purchases can be done online. That means avoiding the chaos of department store shopping. There are no supply chain or "unknown delivery date" scares. While material gifts are always wonderful, nothing beats the gift of something that creates memories.
We hope you got some great ideas from this clutter-free gift guide! If you enjoyed this blog, would like more content like this, or are curious about real estate then sign up below!