Indianapolis Bagel Shops Near Me
Posted by Kimberly Rexroat on Saturday, January 15, 2022 at 8:00 AM
By Kimberly Rexroat / January 15, 2022
Comment
Bagels Shops Near Me
January 15th is coined as National Bagel Day! Unbeknownst to many, the history of bagels is quite rich! Originating in Poland, the bagel has been traced back all the way to the 1300s. Around 1610 it was recorded that bagels were a gift given to women after childbirth. New baby? Here's a bagel!
Bagels eventually made their way here in the early 1800s when Polish immigrants jumped the puddle to New York City, where the product thrived. The inventions of mass production equipment streamlined the bagel in the 1950s, where it eventually became an American staple.
We have countless bagel shops in Indianapolis and the surrounding area that have much to offer our community! So, for National Bagel Day we have compiled a list of local places for you to enjoy a delicious bagel.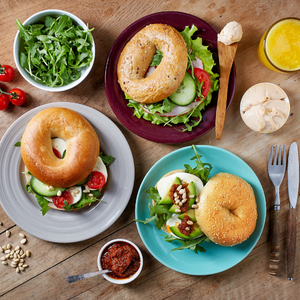 1. Ripple Bagel and Deli
Ripple has been a local staple for the Broad Ripple community since 2003! It is Indy's original steam bagel shop and has been family owned since it's beginning! Head into the story or order online!
https://ripplebageldeli.com/food-menu/
Located off 86th St Bagel Fair has been dishing out delicious bagels since 1975! Paired with their long standing history in our community they have a large selection of bagels, spreads, and other add ons! They recently changed their hours due to Covid so be sure to check out the updated hours!
Bearded Bagel started off as a New York style bagel food truck; the only one of its kind in Indy! As of December 2021, they opened up a brick and mortar steamed bagel shop off 96th Street! They offer call ahead ordering and are available on DoorDash! Check them out on Instagram at @beardedbagelindy
https://www.instagram.com/beardedbagelindy/
Looking to take advantage of today's low interest rates to buy a home? Reach out to us here!
While Big Apple Bagels is a franchise, it is a midwest favorite within states like Indiana, Illinois, Wisconsin, and Michigan! With three locations in Indiana it is a local favorite! Head into the store or order online for daily made fresh bagels!
Another bagel franchise that the Indianapolis locals love! You can't go wrong with a specialty bagel shop that has something for everyone! They even have their own benefits program called Shmear Society to start racking up points for more items! There are a few locations so take a look and find which one is closest to you!
Another way to celebrate is making good use of Everything Bagel seasoning! Use it for breakfast, lunch, or dinner! There are endless recipes out there now on how to use it to enhance your meals! Here's a quick search to get some ideas.
HAPPY NATIONAL BAGEL DAY!